Symphony of Evolution Music Concert
21 December 2018 @ 8:00 PM

-

9:30 PM

SMT

MYR23
亚大华乐团第二届音乐会 "弹新樂舊"
APU CLCS Music concert "Symphony of Evolution"「弹」指之間有着深厚意義 ;
「新」彈舊唱着每個不同年代 ;
「樂」音響起齊來集思回憶 ;
「舊」新一曲又能喚起多少溫暖
不管是新曲或舊曲,在這場音樂會當中我们將會帶大家一起感受不同的聲音,不一樣的年代、不一樣的情感…. 不一樣的我們,讓我們一起來重溫新舊曲中的感動!《弹新樂舊》华乐演奏会于7月21日(星期六) 8pm 约定你!
"The spoken word is ephemeral;
The written word, eternal;
A symphony, timeless."
Let's recall back the warm memories of the past.
Be ready for an extraordinary musical night presented by
"Symphony of Evolution" Chinese Orchestra Music Concert on 21st July (Sat)!
音乐会会指挥 CONCERT CONDUCTOR
林绣潔 Stephanie Lem
大樂樂創意音樂工作室艺术总监
Artistic Director of Vivo Experimental Orchestra
喜歡藝術,是因為喜歡創造和學習的過程中,看到自己的缺點,然後不停尋求突破、培養自己的冒險心態。那一份感動非語言能形容,尤其是在馬來西亞搞藝術工作是不容易的。就因為不簡單,所以才需要花更多心思去經營和加以關注。堅持把快樂的種子散播世界各地,發揮大樂樂精神【用生命玩音樂用音樂感動你】。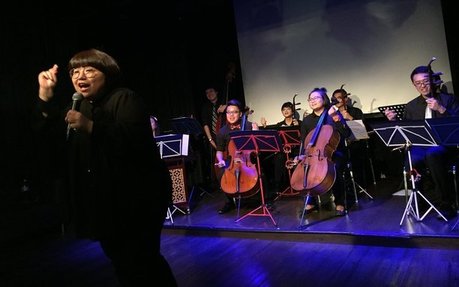 Stephanie Lem is passionate about arts because of the opportunities arisen from creative works and learning experiences that allow her to notice her own weaknesses to break through and nurture her sense of adventure. This cannot be verbally expressed, especially in a country where veteran artists struggle to survive. Because it is never simple, Wumi needs to give all she has to manage and take care of her arts career. She is persistent about spreading the seeds of happiness to every corner of the world, to unleash the spirit of VEO – Playing music with our love, touching you with our passion.
音乐会乐团 CONCERT ORCHESTRA
1. 大樂樂創意音樂工作室
VIVO EXPERIMENTAL ORCHESTRA
大樂樂創意音樂工作室創立於2003年,為馬來西亞一支業餘實驗樂團,由林绣潔擔任藝術總監。除了以即興演奏作爲表演基礎外,團員們投注了相當多的時間與精力經常到國外學習,進行傳統器樂演奏與研究,因此能在傳統與創新之間悠然自得,不但塑造了大樂樂創意音樂工作室的魅力,也吸引了不少觀眾的心。而在馬來西亞的舞台上, 大樂樂是以「多變的曲風融合, 傳統與創作的並進」的獨特風格, 加上自然流露的超強親和力, 讓大樂樂實驗樂團獲得了馬來西亞戲炬獎頒獎典禮上榮獲最佳原創音樂大獎的認同與肯定。
「用生命玩音樂、用音樂感動你」一直是大樂樂創意音樂工作室致力追求的目標。大樂樂創意音樂工作室每一次的演出也將以全新的面貌再一次和大家見面, 除了繼續用音樂與生活結合的理想; 一方面希望能夠走向國際的舞臺發展, 引領即興演奏的潮流。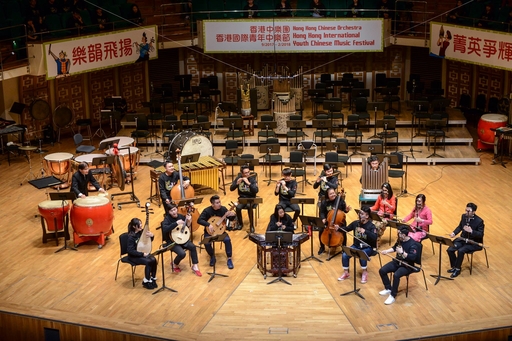 Founded in 2003, Vivo Experimental Orchestra (VEO) is a Malaysian amateur experimental orchestra headed by Stephanie Lem (Wumi Lem) as the artistic director. The orchestra currently has 25 permanent members and 15 trainee members with every one of them being equally passionate towards arts performance. Besides giving impromptu performances as the basis of improvisation, the orchestra is generally divided into two major parts, one for music promotion and development and another for simultaneous training in administrative works and leadership development. Meanwhile, the other members focus on performing in various occasions to enhance and enrich their performing experiences. VIVO has received the Best Original Award with acknowledgement and recognition during the Malaysian ADA Drama Awards Ceremony based on its unique style which "changes the genre fusion of traditional and creativity", plus the orchestra's superbly spontaneous affinity. From 2003 to 2008, VIVO joined Nyoba Kan in performing percussion for a contemporary choreography entitled "The God of Wealth Arrives" as an impromptu creative street performance during Singapore's Huayi-Chinese Festival of Arts. VIVO was jointly invited with three children theatrical arts drama as the performing guests for the International Theatrical Carnival during Shanghai International Contemporary Theatre Festival (ACT). After that, the orchestra had participated in the composition and live performance of a children drama entitled "Hansel and Gretel" as well as the choreography of Nyoba Kan entitled "Phoenix Rises". In recent years, VIVO has been continuously invited to perform in Hong Kong, Indonesia, Taiwan, Shanghai, and etc. In August 2010, VIVO was awarded the championship and third-place during the 36th Klang Music Festival.
2. 亚太科技大学华乐团
ASIA PACIFIC UNIVERSITY CHINESE ORCHESTRA TEAM
亚太科技大学华文学会华乐组于2015年10月成立,至今已有 2年多的历史 。其宗旨为 宣扬中华乐器文化,以乐会友。近几年来团积极参与了校内大小演出,以累更多的出经验。参与的演有新春庆典,亚大文化之夜,公益演出等。在林绣洁老师的带领之下,乐团于 2017 年 7月成功地举办了首届音乐 会《乐燃》 ,意指传递乐手们对于音乐的热 忱。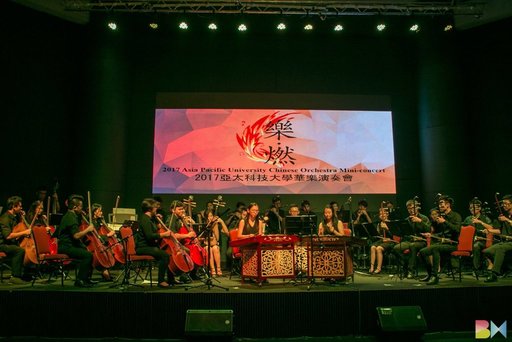 APU CLCS Chinese Orchestra Team was established in October 2015. It has been more than two years since formed. The team's mission is to promote Chinese culture and chinese music instruments. Previously, the group has actively participated in different types of performance to gain more stage performing experience. Team previous performances included New Year celebrations, Multicultural Nights, and public performances. Under the leading of Miss Stephanie Lem, the orchestra team has successfully held their first concert "Musicians' Passion" in July 2017, the concert theme has successfully presented performer's passion towards music.
Performance History 演奏历史:
Year 2016:
Feb- Chinese New Year Celebration
Mar- CLCS Recruitment performance
May- Recruitment Drive Week performance
Jul- Recruitment Drive Week performance
Aug- Merdeka Fiesta performance
Nov- Mid-Autumn Festival Celebration performance
Nov- Multi-cultural Night performance
Year 2017:
Feb- Chinese New Year Celebration
May- Recruitment Drive Week and Charity Bazaar
Jul- Chinese Orchestra Mini-Concert performance
Nov- Mid-Autumn Festival Celebration performance
Dec- Multi-cultural Night performance
Year 2018:
Feb- Chinese New Year Celebration performance
April- Health Awareness Week Concert @TPM
Jul- Chinese Orchestra Music Concert
3. 康乐国中华乐团
SMK Taman Connaught Chinese Orchestra Team – ORCHESTRA FLAME OF THE FOREST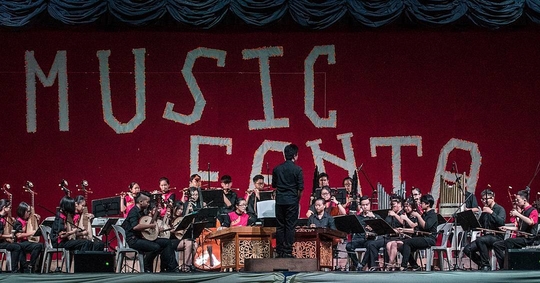 吉隆坡焦赖康乐国中华乐团成立于1995年1月1日,由丘其超团友创立。本团原属于佛学会门下的一个团体,并在1999年正式独立,且在短期内成为校内活跃团体之一。本团曾由黄鸿昌老师和林伟雄老师指导。目前的驻团指挥是林绣洁老师。乐团成立以来一直都很积极的筹办及参与校内的活动演出并深受好评。
Performance History 演奏历史:
1999年12月19日- 在绣洁老师的带领下,本团主办有史以来的第一次演奏会,取名为《艺苗》华乐演奏会。
2000年9月9日- 本团首次与友团巴生滨华中学华乐团联合主办演奏会,取名为《飞音响乐天》华乐演奏会。
2001年1月6日- 本团在乐圣岭天后宫礼堂呈献了一场名为《飞越》的华乐演奏会。此演奏会由雪隆海南会馆青年团主办。
同年12月- 受邀到吉隆坡篮球总会得邀请,为第十届林文泽杯-全国十六岁以下青年
篮球锦标赛开幕典礼呈现节目,深获好评。
2002年5月24日至6月3日- 本团再次与友团巴生滨华中学华乐团及巴生中华中学华乐团联合主办了《丰收》华乐演奏会。此演奏会在雪隆区连续呈献五场。此演奏会让各界人士留下了深刻的印象,取得了良好的口碑,并且成功为乐团添购乐器,带领乐团走向更美好的发展。
同年12月21日- 本团首次派队参与2002全国华乐合奏比赛,并且获得优秀奖。
2003年1月- 乐团有幸迎接来自陕西的演奏家们前来拜访,获益匪浅。
同年6月7日- 本团主办及呈献《飞天》华乐演奏会。
同年7月20日- 本团参与由雪隆海南会馆青年团主办的2003年雪隆区华乐小合奏比赛,并荣获冠军。
2004年- 本团参加由巴生光华国中举办的"乐、歌、舞"校际音乐比赛,再次脱颖
而出,荣获乐器合奏组冠军。
同年6月12日- 乐团举办《非常》华乐演奏会。这场演奏会格式新鲜,并在演奏会里首次尝试乐团团员所改编及创作之乐曲。
同年乐团受邀为董总50周年晚宴呈献演出,为华教献出一份力量。
同年12月- 本团再次派队参与2004年全国华乐合奏比赛,在17个队伍中脱颖而出,
荣获优秀奖。
2005年12月- 本团与新纪元学院华乐团联办音乐会及生活营。
2006年6月10日- 为了纪念乐团成立11周年,举办了《梦成真》华乐演奏会。
同年参与<2006年全国华乐合奏大赛>,荣获第四名。此外,指挥林绣洁老师也荣获最佳指挥奖。
2007年- 本团举办了三場《我的音乐行李》华乐演奏会
同年06月09日 地點:康樂中學禮堂
同年08月26日 地點:天后宮禮堂
同年12月23日 地點:沙巴建國禮堂(由建國華樂團主辦)聯合呈獻。
2008 – 《影乐听见》音乐会。
2009 – 《任意门》音乐会。
2010 – 《我的音乐我做主》音乐会。
2011 – 《音乐响宴》音乐会。
2012 – 《美好乐迹》音乐会。
2014 – 《追。乐 》音乐会。
2015 – 《爱。乐 》音乐会。